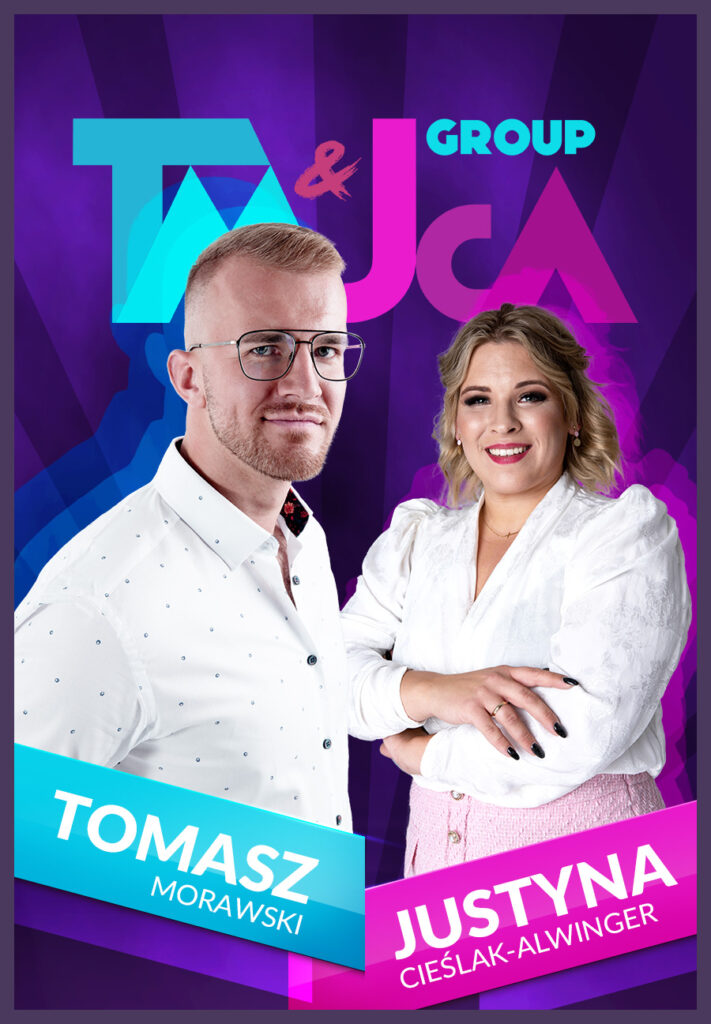 TM&JCA has the great pleasure to invite you to the 1st Deaf World Festival in Warsaw!!! We've been cooperating with Deaf People in Poland for years, supporting Them in everyday struggles. We are organizing the Festival to get you familiar with the deaf culture from different regions of the world, get some rest and have fun in a cheerful atmosphere of the first such party in Poland.
Let's meet at the Festival in Poland from 30th June to 5th July 2023. Apart from festival fun there will be an opportunity to visit Warsaw, Cracow, Auschwitz-Birkenau State Museum and the Salt Mine in Wieliczka, share experiences during discussion panels, as well as to watch sport contests. We hope to meet each other in large numbers to experience these amazing moments together.
We invite You to choose bundles or individual tickets for the events during our Festival. We can't wait to meet you, don't delay your purchase!
See you in Poland guys!
DCL FOOTBALL 2023 / FESTIVAL / EXPO in WARSAW (POLAND)
NIGHT PARTY - 01.07.2023 in Warsaw 🇵🇱 - Information Ticket : 120 PLN / 25€
You can order here
TICKETS
DEAF CHAMPIONS LEAGUE (SEMIFINAL) + EXPO
Stadion Hutnik Warsaw
42 Marymoncka St., 01-977 Warsaw
30.06.2023 - semifinal

30.06 - EXPO - whole day
DEAF CHAMPIONS LEAGUE (FINAL) + EXPO + FESTIVAL
Stadion Hutnik Warsaw
42 Marymoncka St., 01-977 Warsaw
01.07.2023 - 3rd place and final

01.07 - EXPO - whole day

01.07 hours 10-15 - FESTIVAL
25 €

(limit to 2000 people)
MAŁA WARSZAWA
14 Otwocka St., Warsaw
01.07.2023, at 18.00 to 6.00 in the morning
Entrance to "NIGHT PARTY"

Number of guests max 2000 people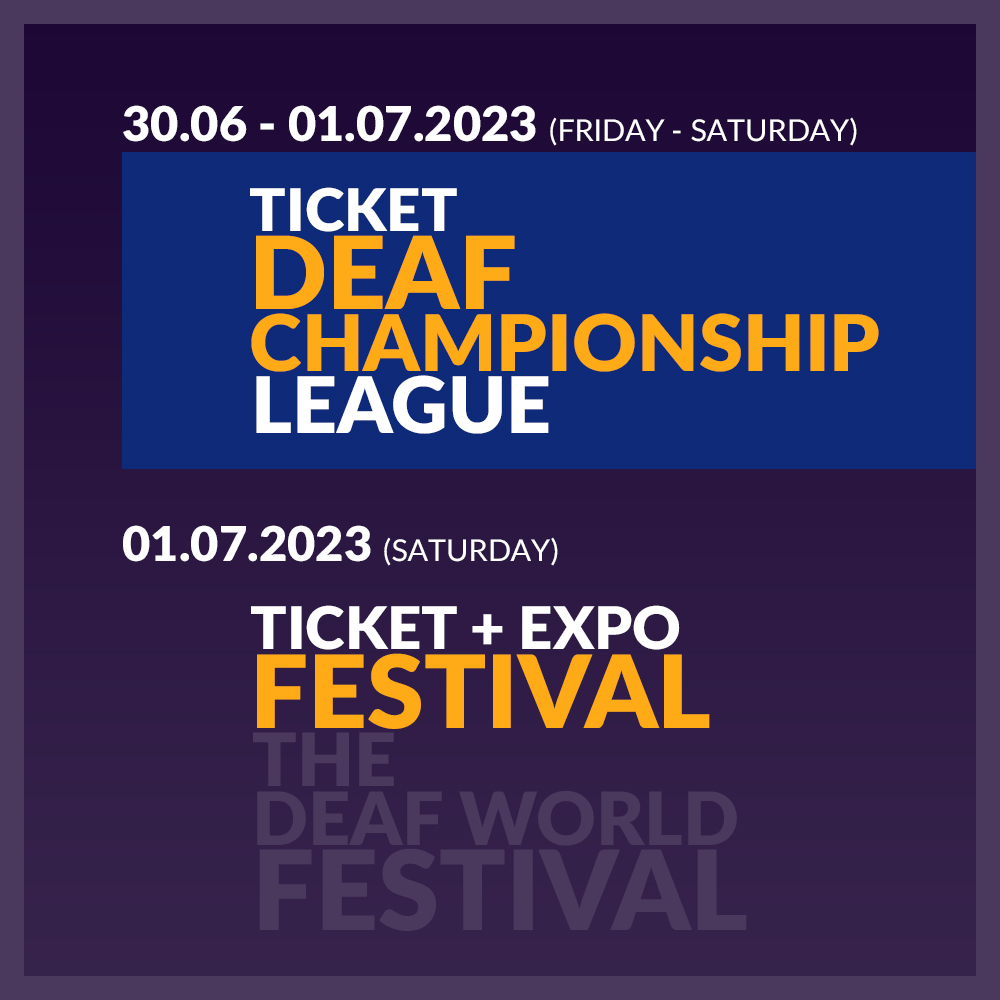 FESTIVAL + EXPO + DEAF CHAMPIONS LEAGUE
01.07.2023
hours 10.00 –15.00 (FESTIVAL)

seat

introduction to on-stage lectures
Stadion Hutnik Warsaw (CHAMPIONS LEAGUE)
42 Marymoncka St., 01-977 Warsaw
30.06.2023 - semifinal

01.07.2023 - 3rd place and final

30.06 - 01.07 (2 days) - EXPO - whole day
Stadion Hutnik Warsaw (CHAMPIONS LEAGUE)
42 Marymoncka St., 01-977 Warsaw
nagrody + free ticket for EXPO/FESTIVAL in saturday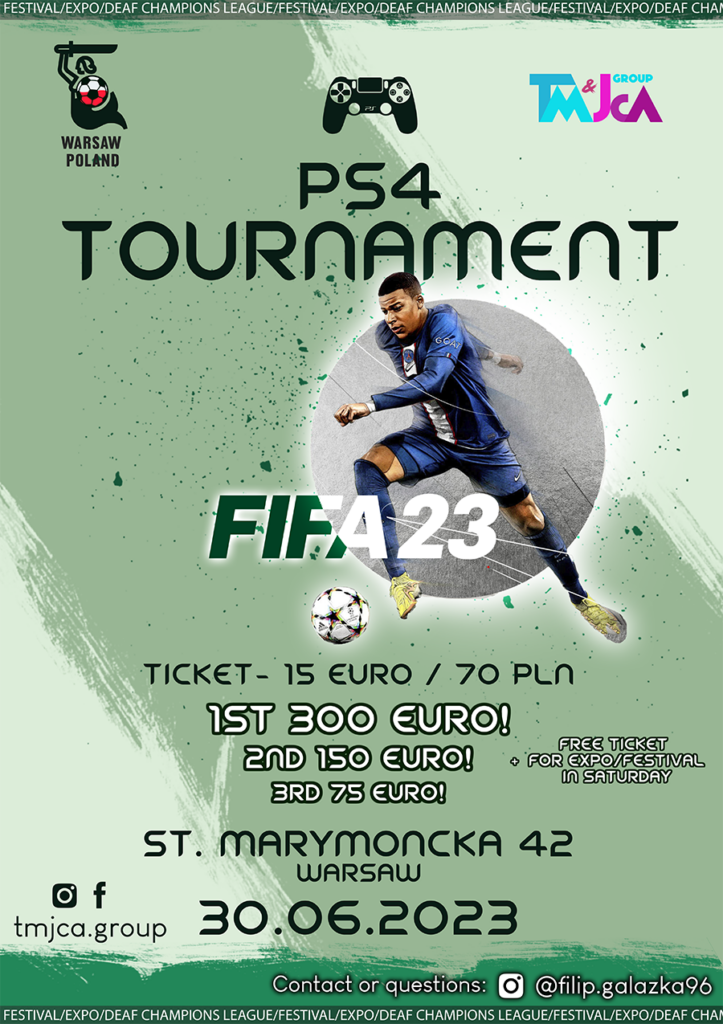 1100 €
(limit to 50 people)
29.06.2023 – 05.07.2023 (6 days)
Hotel with catering (breakfast + dinner) - Warsaw

Transport: airport - hotel - airport and for trips

FESTIVAL + DEAF CHAMPIONS LEAGUE

Entrance to "NIGHT PARTY"

Sightseeing with a guide and a sign language translator: Warsaw, Cracow, KL Auschwitz, Wieliczka

Meeting with special Guests
2000 €
(limit to 50 people)
29.06.2023 – 05.07.2023 (6 days)
Hotel with catering (breakfast + dinner) - Warsaw

Transport: airport - hotel - airport and for trips

FESTIVAL + DEAF CHAMPIONS LEAGUE

Entrance to "NIGHT PARTY"

Sightseeing with a guide and a sign language translator: Warsaw, Cracow, KL Auschwitz, Wieliczka

Meeting with special Guests
SILVER VIP (for 1 person)
700 €
(limit to 50 people)
29.06.2023 – 02.07.2023 (3 days)
Hotel with catering (breakfast + dinner) - Warsaw

Transport: airport - hotel - airport and for trips

FESTIVAL + DEAF CHAMPIONS LEAGUE

Entrance to "NIGHT PARTY"

Sightseeing with a guide and a sign language translator: Warsaw
SILVER VIP (for 2 people)
1200 €
(limit to 50 people)
29.06.2023 – 02.07.2023 (3 days)
Hotel with catering (breakfast + dinner) - Warsaw

Transport: airport - hotel - airport and for trips

FESTIVAL + DEAF CHAMPIONS LEAGUE

Entrance to "NIGHT PARTY"

Sightseeing with a guide and a sign language translator: Warsaw
EXTRA TRIP (for 1 person)
350 €
(limit to 50 people)
02.07.2023 – 05.07.2023 (3 days)
Trip to: Cracow, Auschwitz, Wieliczka

Hotel with catering (breakfast + dinner) - Cracow

Sightseeing with a guide and a sign language translator
EXTRA TRIP (for 2 people)
600 €
(limit to 50 people)
02.07.2023 – 05.07.2023 (3 days)
Trip to: Cracow, Auschwitz, Wieliczka

Hotel with catering (breakfast + dinner) - Cracow

Sightseeing with a guide and a sign language translator
Arrival in Warsaw, check-in in Hotels (GOLD, SILVER)
9AM – sightseeing in Warsaw (GOLD + SILVER): Warsaw Uprising Museum, The Royal Łazienki Park, The Royal Castle, PGE National Stadium, Institute of the Deaf and Mute of Jakub Falkowski, Warsaw Mermaid Statue
– match of Deaf Champions League in Hutnik Stadium
(Hutnik Warsaw, 42 Marymoncka St.)
10AM – shows and lecture by special guests on stage
3-5PM – Deaf Champions League Finale
6PM– giving out medals
6PM – "NIGHT PARTY" in club "Mała Warszawa" (14 Otwocka St., Warsaw)
12PM – GOLD VIP trip to Cracow
10AM – Group A- sightseeing KL AUSCHWITZ
10AM – Group B- sightseeing Wieliczka Salt Mine
3PM – sightseeing Cracow
10AM – Group B- sightseeing KL AUSCHWITZ
10AM – Group A- sightseeing Wieliczka Salt Mine
3PM – sightseeing Cracow
7PM – farewell dinner
morning – coming back to Warsaw
…. – going to the airport
Lokalizacja - FESTIVAL
HUTNIK WARSAW
Location - NIGHT PARTY
Mała Warszawa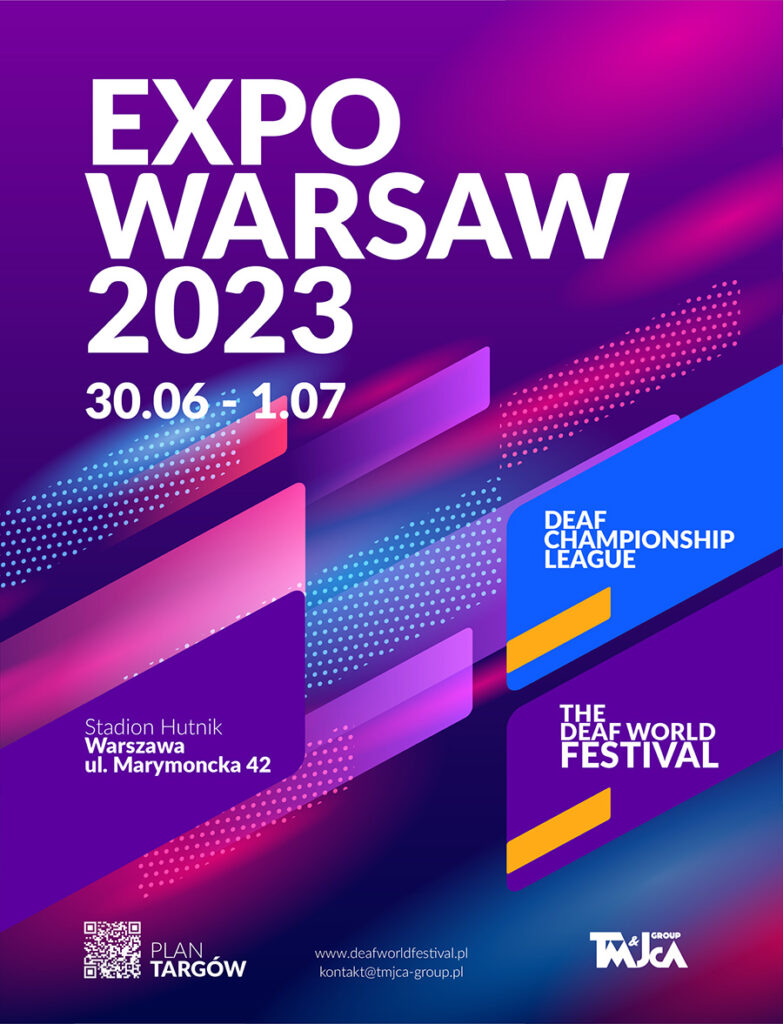 For exhibitors
Ask for a stand
Please download the PDF to complete the application for booth reservation at EXPO 2023